Corporate entry:

Solomon Islands National Museum
Details
In 1951 Geoffrey F.C. Dennis, James L.O. Tedder and others brought together a number of valuable Solomon Islands articles which various people had collected over the years, and exhibited them in the Germond Library in the grounds of Government House, Honiara; Geoff Dennis became Honorary Curator and a trustee. (AR 1953-1954, 45) In 1954 the collection was transferred to a building in Coronation Gardens which soon after had to be demolished, so the collection in 1955 went to the Lands Department before being moved yet again in 1959 to the British Solomon Islands Training College, where it was virtually ignored. The Protectorate Government in 1966 was then persuaded to approach the Calouste Gulbenkian Foundation for financial help. James Tedder, Chairman of the Honiara Town Council, meanwhile won the cooperation and agreement of the Protectorate Government, Local Councils, and District Commissioners, on behalf of their Districts, to contribute to the annual maintenance costs of the proposed museum, to be administered by the Town Council. The Gulbenkian Foundation in 1967 donated £5,000 to build the first gallery, designed by Public Works Department architect Don Woolard, based on a traditional Melanesian house with roofing of ivory nut palm leaves (Metroxylon Salomonense). Built in Coronation Gardens on Mendana Avenue, amongst indigenous trees culturally and economically significant to island communities, the new museum provided exhibition space but only a very small office and store. It was opened on 6 June 1969 by Solomon Dakei, Vice Chairman of the Honiara Town Council.
An Association was formed to organise museum exhibitions, talks and publications, while the Town Council covered costs of a caretaker and the Honorary Curator, Lindsay Wall. This Association partly followed in the footsteps of the British Solomon Islands Society for the Advancement of Science and Industry (q.v.) which had its inaugural meeting in 1951. Professor Raymond Firth who researched on Tikopia, presented one of the first papers, published in the Transactions for the Foundation Year 1951-52, "Anthropological Field Work in the Solomon Islands". The inaugural meeting of the new Solomon Islands Museum Association was held in February 1972, and elected Solomon Dakei as Chairman, Dick Thompson as Secretary, Sid Melville as Treasurer, and as committee members Jim Tedder, Bronwyn Haywood, Alphonso Daga, Peter Kenilorea and David Wellman. Life membership was set at $10, individual annual membership 50c and school annual membership $1. Funds were to come from the Town Council, a Protectorate Government vote of $2,000 plus Association sales for that year ($225). The objects of the Association were to encourage community and local government involvement in the administration of the museum, in its work to acquire and store objects for preservation and exhibition, to foster interest in cultural and natural history of the islands, and to run a museum shop. Also in 1972, the Association produced a Journal and a series of Custom Stories; the editor for both was Dick Keevil.
The Honiara Museum became the Solomon Islands National Museum, and in June 1972 Lawrence Foana'ota was appointed full time Assistant Curator. Then in early 1973 the responsibility for the National Museum was transferred to the Protectorate Government's newly extended Information, Broadcasting, Museum and Library Services with Jim Tedder as Director. In the same year, 1973, the British Government provided funds under Technical Assistance (through the Overseas Development Administration) for a Curator (Training) to be appointed (Anna Craven, who remained until early 1979). She was enabled en route to conduct a brief survey of Solomon Islands collections in museums in Hawai'i, New Zealand, Australia, and Fiji. Her role was to train local staff, conduct research, obtain funds, and develop the museum complex and services. British funding was agreed for the provision of a new specialised museum building, along with research and technical equipment.
The Solomon Islands Broadcasting Corporation (SIBC) (q.v.) was established in 1974 and the museum and library services hived off as part of the new Ministry of Education and Cultural Affairs, which also became responsible for issuing research permits to foreign academics and film-makers. (Just before Independence this became the Ministry for Youth and Cultural Affairs.) The Assistant Curator was sent for six months training at the East-West Center in Honolulu. New posts were created: Henry Isa was appointed Curator and Gordon Kikoni was appointed Museum Attendant, but the museum still depended on the support of the Association and interested expatriates who volunteered their expertise. It became the hub for the international research community, and through these contacts, staff members were able to gain research experience, while the museum acquired items for the collection and publications for its reference library. The Curator (Training) was able to influence Australian Government funding for cultural development across the Pacific parallel to that given to Papua New Guinea. The Pacific Cultures Fund was set up as a result and through this, the Solomon Islands National Museum obtained funding for a series of projects. An Archaeological Site Survey was set up by a UK VSO archaeologist, Daniel Miller; sixth-form students were recruited for an Oral History and Tradition recording project; an open air theatre and traditional-style canoe house were constructed next to the Mendana Hotel; and a pioneering and invaluable Historic Photographs Archive was built up by another volunteer, Lynne Auld.
In 1975 Lawrence Foana'ota returned, and Henry Isa went for training at the Institute of Archaeology, London University. The Association and National Museum mounted the first Custom Festival (of music and dance) in Coronation Gardens behind the museum. This was a successful and well attended event with participants from various islands, and a mixed team from the British Solomon Islands Training College (q.v.) who had learnt each others' dances and songs. The following year it was decided a bigger event should be held, for which a temporary arena was constructed west of the museum, to coincide in December 1976 with a UNESCO bilingual Workshop on the Techniques of Recording Oral Tradition, Music, Dance and Material Culture. Twenty-seven participants came from Papua New Guinea, New Hebrides (now Vanuatu), New Caledonia, and Solomon Islands, with lecturers from Australia, Hawai'i, Niue, Paris, Papua New Guinea, UK and USA. The group conducted practical fieldwork on Malaita, and ended the course by recording the second national Festival of Traditional Music and Dance. As more funding had been obtained for this 1976 event, it was possible to bring to Honiara teams from further afield, including Vanikoro.
By this time, the Museum Association had become the Cultural Association of Solomon Islands (CASI), a decision made by the committee to widen the functions and activities of the Association and to make it more inclusive of communities in the rural areas. It remained an advisor to the government on the museum and cultural centre, and active in sponsoring research (e.g. the ancient taro terraces of old Kusaghe in New Georgia) and publications on cultural and natural history nationwide. It encouraged the establishment of local cultural committees and centres (e.g. in Choiseul and Bellona), and in an effort to keep specialised skills alive it commissioned canoes from Northwest Choiseul, Shortlands, Taumako and Rennell. It continued to publish the Journal (now of the Cultural Association), Custom Stories of the Solomon Islands, and special issues. Les Tickle's research on Bellona tattooing was eventually produced in 1977; A Short Guide to the Material Culture of the Solomon Islands and the Collection in the National Museum was produced for Independence (an update of one first produced in 1971); Handbook for the Preservation of the Solomon Islands Heritage, 1979, was written in English and pijin for national distribution. Special issues on natural history subjects did not continue after Marine Shells of the Solomon Islands, Volume 1, 1972, by J.C. Kenworthy, and The Fishes of the Solomon Islands, Part 1, 1974, by W. Noel Gray, but similar subjects (e.g. on birds, use of medicinal plants) were still covered within the Journal. It was also seen as important to record, transcribe and translate oral tradition in an effort to maintain the knowledge of vernacular languages. Stories collected in 1976 from the people of Ontong Java were finally published in 1981 under a new title Journal of Oral Tradition and Contemporary History, Volume 1 (compiled by John Keopo), with vernacular on one page and the English translation in parallel on the opposite page. The intention was to produce such books for use in schools. The Association's shop provided a sales and export outlet for traditional craft, besides its publications, whose manager Jenny Sau (Tuhaika) ensured a high standard of products. She was also the Association's secretary and treasurer.
The new building for the National Museum, urgently needed to house a growing national collection and for its processing and conservation, for a specialised archaeological unit, photographic services and reference library, and to provide space for more staff, was completed in 1975. This also increased facilities for educational activities, exhibitions, public lectures and for meetings of the Association. With the later construction of the canoe house and the open air theatre opposite the museum on the former site of the War Memorial, funded by the Australian Pacific Cultures Fund, the complex became the Solomon Islands National Museum and Cultural Centre. There were plans for yet more research projects, more collections and exhibitions, and greater outreach and collaboration with the Provinces. It continued to liaise and work with visiting researchers, and to expand its international network. A comprehensive National Cultural Policy was now seen as essential, and the drafting and enacting of this was recommended to the Protectorate Government. (NS 21 Apr. 1967, 21 May 1967, 17 Nov. 1967, 15 June 1969, 15 Feb. 1972, 31 Oct. 1972, 8 Nov. 1974; AR 1974, 12, 107; SND 14 Mar. 1975, 7 Jan. 1977; Tedder 1971; original entry revised by Anna Craven, April 2014)
Related entries
Published resources
Journals
Solomons News Drum, 1974-1982. Details
British Solomon Islands Protectorate (ed.), British Solomon Islands Protectorate News Sheet (NS), 1955-1975. Details
Journal Articles
Tedder, James L.O., 'The Solomon Islands Museum', South Pacific Bulletin, vol. 21, no. 2, 1971, pp. 31-33. Details
Reports
British Solomon Islands Protectorate, British Solomon Islands Protectorate Annual Reports (AR), 1896-1973. Details
Images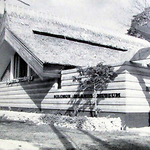 Title

Solomon Islands National Museum, 1969

Type

Image

Date

1969

Source

SIG